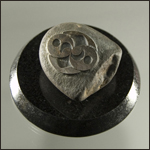 Crop circle season has begun, which means I'll be doing some stone carvings again to be sure. One evening recently I had time to make this latest piece – my favorite so far. You can read more on this subject here".
You may have noticed our store has nothing in it yet, but this is going to change soon. Undoubtedly some of the first items will be various stone products that are almost ready. Our goal is to be heavily stocked with unique gifts by next holiday shopping season.
More info and updates coming soon.