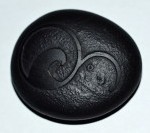 Breaking News! For those of you that have been following Replicating the Roswell Rock, we may have a possible end to the Roswell Rock mystery… it appears a man came forward yesterday (8/27/14) with a pretty solid explanation on the probable origin, and possibly who made it. Apparently this is about two stones that were purchased in 1998, in Roswell, at the "Alien Encounter 98″ festival.
Image Credit: John Russell, and posted at cropcirclesresearchfoundation.org
An additional image has now gone up at Crop Circles Research Foundation, also coming from John Russell which appears to bear a carved-in version of what we see on the original Roswell Rock. In my opinion they seem to share the same what I would call design flaws and differences from the original field version.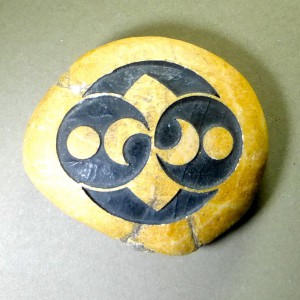 The field version certainly had "flaws" of it's own, which was one reason some crop circle enthusiasts and experts having deemed the formation to be a "man-made" hoax, and were therefore never all that impressed by the Roswell Rock either. As to the shocking yellow and black appearance… certainly the black is paint. With decorative rocks, it is pretty standard to spray the carved in part black with the blasting stencil still on.
This looks to me like the real end of the mystery. I've spent enough time looking at the design on this rock (as well as blasting it myself numerous times), to recognize an actual match. I think these two rocks are much more closely matching each other, than the 96 formation. For example, look at the misalignment of the yin-yanged moons in both carvings, the different curvatures and intersect of the inner elements above and below the moons, and most distinctly – the identically incorrect thinness of the outline of the circles around the moons. My opinion is that these two rocks were carved by the same person or company. Every curve, every angle, every proportional aspect, they are all identical.

Regarding that the Russell rock appears to be carved-in, as opposed to the relief carve of the Roswell Rock: To save material, a sandblaster working in a production situation could logically use the entire stencil, essentially using both the design and also the background of the design – so there is the off chance that these two are actual twins in that respect also (this might be provable by someone doing a side-by-side comparison of actual measurements).
I'm hoping the people from the company "MLennium Productions" will come forward to confirm what John Russell is saying… not because I don't enjoy a good mystery, but because I'm a bigger fan of the truth when it can be found, and wherever it might be.