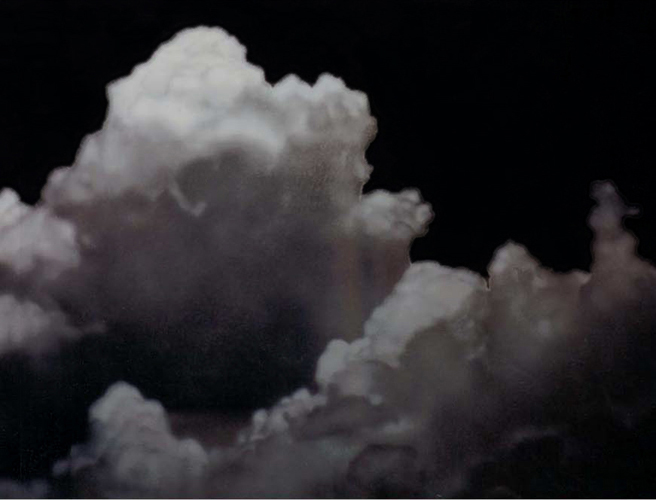 I've always relied on writing for peace of mind, brainstorming, problem solving, and channeling creative energy. It feels distinctly recreational.  I hope this will hold true for writing about my work.  With that in mind, I think it's best I jump in without too much forethought or strategizing, and keep it … recreational if possible.
As a simple introductory post, I'm putting up this old picture I found of some clouds blasted more than twenty years ago. It marked a specific turning point in how I work. I was determined to find a way to get something other than the typical sharp edges created by cutlines , which I did manage to do, but with great difficulty. It took at least another 10 years before I became comfortable with the technique that evolved. In fact, it's really STILL evolving. It seems like each new project teaches me a little more.
This "blurring of the edges" is useful for depicting so many things that are otherwise very difficult with sandblasting. You can see (click to enlarge) that it is not only the edges of the clouds that are softened, the interior workings are made up of not-so-sharp/not-so-soft forms as well. For some reason it was a long time before I started utilizing this to emphasize depth by blurring elements in the background or even the foreground. Once I started doing it though, it's now hard to resist.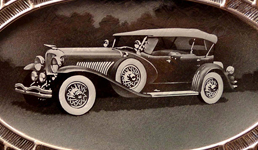 This car etched for Mercury Glass Co. was the first time that I can think of that I deliberately tried to blur the background to create a depth of field.
At the time I was also using this same technique to create the very controlled looking affects such as the high-light on the edge of the hood which is bright, bold, and somewhat sharp in comparison to the traditionally approached softer free-handed one on the back fender.