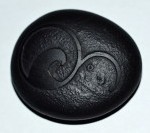 Breaking News! For those of you that have been following Replicating the Roswell Rock, we may have a possible end to the Roswell Rock mystery… it appears a man came forward yesterday (8/27/14) with a pretty solid explanation on the probable origin, and possibly who made it. Apparently this is about two stones that were purchased in 1998, in Roswell, at the "Alien Encounter 98″ festival.
Image Credit: John Russell, and posted at cropcirclesresearchfoundation.org
An additional image has now gone up at Crop Circles Research Foundation, also coming from John Russell which appears to bear a carved-in version of what we see on the original Roswell Rock. In my opinion they seem to share the same what I would call design flaws and differences from the original field version.