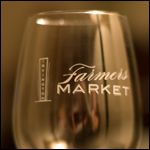 Finely detailed etching on a wine glass.
Some of the lines are only a tiny bit thicker than a human hair.(click on the image for a larger view)
Sorry to say I've decided not to include wine glass etching as something I offer as a service. I had previously decided to pursue it because of the regularity of calls asking fot it, but upon looking into it, silk screening is a much cheaper way to go and so that is what I am recommending to people.