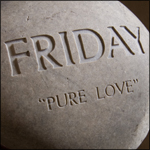 This time it's one for us. A bit belated – it felt better to avoid it for a while. We left this one unpainted – definitely a subtler look. (click to enlarge)
It's true, our cat "Friday" WAS old, but it didn't really seem like it – just last year I looked out the window and was shocked to see him fearlessly beating on a big raccoon that was eating out of his bowl. Probably embarrassing for Friday that the raccoon didn't seem to notice much and just continued eating.
Micky has a nice Friday post on her blog. Good photo too. Here is a link.